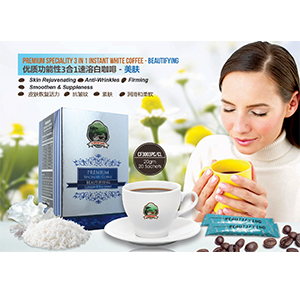 CF3003PC/CL
Premium Speciality Coffee Beautifying
Collagen, Rice Extract and Tremella Extract
Harnesses the natural revitalizing properties of collagen to help promote skin lightening and rejuvenating effect, transforming your skin with a healthier radiant glow. Rice extract contains among others, Vitamin E, Ferulic acid, and Oryzanol substances which help improve skin elasticity, effectively remove impurities, while providing skin nourishing oils making it silky soft, smooth and supple.
Tremella's ancient skin beauty secret is attributed to its water holding capacity which is much higher than hyaluronic acid; hence helping to retain the skin's natural moisture.
These innovative functional formulations combine the rich quality coffee with the skin beautifying properties and the health promoting benefits of natural nutritional extracts to meet the needs of the beauty and health conscious. Indulge in its rich aroma and signature taste whilst maintaining your body fitness or beautiful skin.
SEND ENQUIRY 发出查询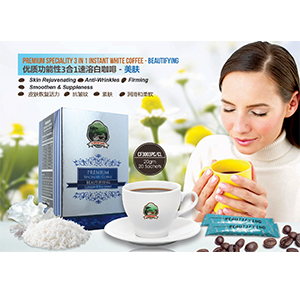 [related_post themes="flat" id="60"]