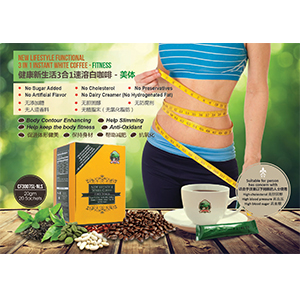 CF3007SL-NLS
New Lifestyle Functional White Coffee 3 in 1 Fitness
Pure Coffee + Skim Milk + Xylitol + Green Coffee + Green Tea + White Bean
Created for a Healthier Lifestyle. Distinguished by its Great Taste. Natural extracts from raw, unroasted Green Coffee, Green Tea and White kidney Bean combined with our pure coffee, skim milk and xylitol to provide that great health boosting brew. Green coffee and tea contains naturally occurring antioxidants namely, Chlorogenic acid and Epigallocatechin Gallate (EGCG) while white beans, the "starch blockers", can prevent alpha-amylase (an enzyme in the body) from breaking down carbohydrates into glucose (sugar) leaving behind less glucose for the body to turn into fat. Precisely the ideal combination to keep you fit and your weight under check.
This fine quality coffee blend is enriched with the natural goodness of freeze dried cow's milk and Xylitol to give you that well balanced, surprisingly refined aromatic coffee taste. Specially developed to reduce calories in beverages for a healthier lifestyle and at the same time to meet the discerning taste of genuine coffee lovers.
Coffee by itself is virtually calorie and fat free – it is what we add that makes it calorie rich – such as sugar & creamer.
Unlike table sugar, Xylitol, a natural sweetener extracted from plant fibres has 40% less calories than common table sugar and is suitable for diabetics. Besides being free from artificial flavors, and fat laden creamers found in other brands, our innovative formulation uses non hydrogenated, protein rich, fat skimmed high calcium cow's milk. All this combined to give you better nutrition so that you can indulge in your favourite coffee without worry; hence adding joy to your new lifestyle.
NO Sugar/Artificial Flavor/Dairy Creamer(Hydrogenated Fat)/Cholesterol/Preservatives.
Created for the First Time in Malaysia! New health concept for a 3 in 1 white coffee for a better lifestyle
SEND ENQUIRY 发出查询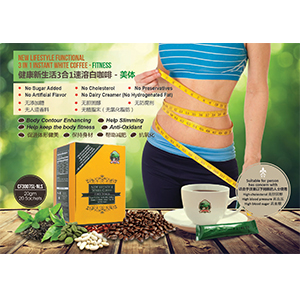 [related_post themes="flat" id="54"]