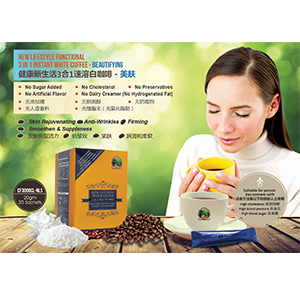 CF3008CL-NLS
New Lifestyle Functional White Coffee 3 in 1 Beautifying
Pure Coffee + Skim Milk + Xylitol + Collagen + Rice Extract + Tremella Extract
Tantalizing Brew with Natural skin revitalizing attributes. This specially developed formulation harnesses the natural revitalizing properties of collagen to help promote skin lightening and rejuvenating effect, transforming your skin with a healthier radiant glow. Combined with rice extract, which contains, among others, Vitamin E, Ferulic acid and Oryzanol substances helping to improve skin elasticity, effectively removes impurities, while providing skin nourishing oils making it silky soft, smooth and supple. For centuries, Asian homes have been using rice extract for beautiful skin and hair.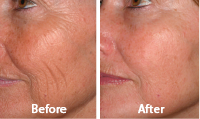 Tremella's ancient skin beauty secret is attributed to its water holding capacity which is much higher than hyaluronic acid, hence helping to retain the skin's natural moisture. Come, partake joy in a beautiful drink!
This fine quality coffee blend is enriched with the natural goodness of freeze dried cow's milk and Xylitol to give you that well balanced, surprisingly refined aromatic coffee taste. Specially developed to reduce calories in beverages for a healthier lifestyle and at the same time to meet the discerning taste of genuine coffee lovers.
Coffee by itself is virtually calorie and fat free – it is what we add that makes it calorie rich – such as sugar & creamer.
Unlike table sugar, Xylitol, a natural sweetener extracted from plant fibres has 40% less calories than common table sugar and is suitable for diabetics. Besides being free from artificial flavors, and fat laden creamers found in other brands, our innovative formulation uses non hydrogenated, protein rich, fat skimmed high calcium cow's milk. All this combined to give you better nutrition so that you can indulge in your favourite coffee without worry; hence adding joy to your new lifestyle.
NO Sugar/Artificial Flavor/Dairy Creamer(Hydrogenated Fat)/Cholesterol/Preservatives. Created for the First Time in Malaysia! New health concept for a 3 in 1 white coffee for a better lifestyle
SEND ENQUIRY 发出查询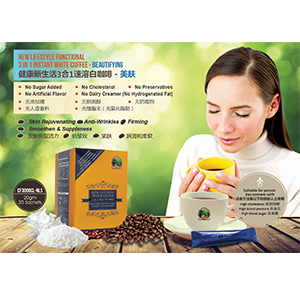 [related_post themes="flat" id="55"]